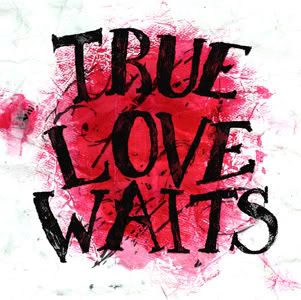 When God wants you to remember something, He reminds you. And he keeps doing so until you understand. Which is exactly why I am wondering why I was able to read another blog about waiting for God's best and why I received a recycled paper with a True Love Waits Commitment at the back. Hmm... I wonder why.
So here are the five commitments of true love waits as written in the paper:
- To God: Matthew 22:37 - Jesus replied: 'Love the Lord your God with all your heart and with all your soul and with all your mind.'
- To Yourself: Matthew 22:39 - And the second is like it: 'Love your neighbor as yourself.'
- To Your Family: Philippians 4:5 - Let your gentleness be evident to all. The Lord is near.
- To Your Friends: John 15:13 - Greater love has no one than this, that he lay down his life for his friends.
- To Your Future Mate and Children: 2 Timothy 2:22 - Flee the evil desires of youth, and pursue righteousness, faith, love and peace, along with those who call on the Lord out of a pure heart.
And with that, "Believing that true love waits, I make a commitment to God, myself, my family, my friends, my future mate, and my future children to a lifetime of purity including sexual abstinence from this day until the day I enter a biblical marriage relationship."
I shall now say, Ok ok ok... :)